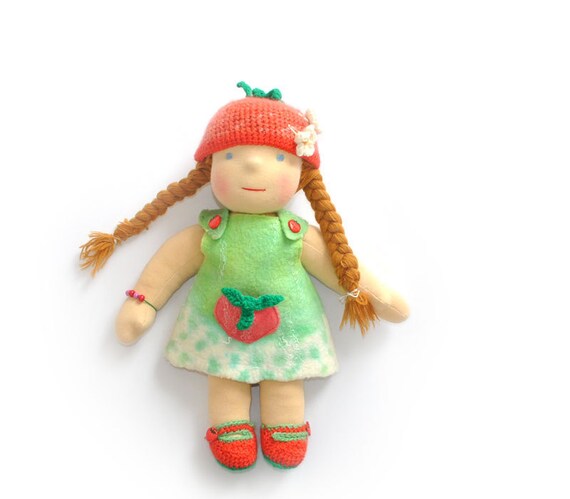 A Waldorf doll (also called Steiner doll) is a form of doll used in Waldorf education. Made of wool and cotton, using techniques drawing on traditional European doll making, its appearance is intentionally simple in order to allow the child playing with it to improve or strengthen imagination and creativity. For instance, it has no facial expression. Its legs and arms are flexible, allowing natural postures.
Traditional Waldorf dolls are made from cotton interlock knit fabric and wool stuffing. They are often entirely natural. Typically the trademark long hair of a Waldorf doll is made of mohair or boucle. Some doll makers use alternative hair material such as wool, rayon, and cotton. The facial features of a Waldorf doll vary with the maker. Most Waldorf dolls have small suggestions of noses, their eye and mouth colors are generally varied with each doll.
Wikipedia
I found about this philosophy about 2 years ago on the wool felting class. One of the girls there told that she is making such a doll to her daughter. At that time I read a lot about this view and liked it very much. For more than a year I wanted to buy one, but was not prepared to pay the high price. Most of the toys are handmade and therefore are not cheap. Now I see two reasons why I couldn't afford for myself to buy a doll. Firstly, I didn't have a daughter yet and more importantly, I didn't see something I would have really loved.
When I found
LaFiabaRussa
store for the
first time
I understood that I have to adopt one of her dolls. I waited patiently for the right moment - the first birthday of my daughter. I decided to order two dolls from Okasana, so I can bring a gift to my best friend's daughter too.
Yesterday they finally arrived. I can't stop playing :)) I am fascinated. The dolls breath love and warmness. They have an amazing smell and adorably soft hair. It is a real pleasure to hug them. I ordered girls without cloths, so now I am doing nothing but planning and sewing new stuff for my new toys. The second doll is staying with us too :)
Please meet them: Maya and Oksana.